Material
ABS, PP, PPS, stainless steel and brass
Dimensions
w 330 x d 440 x h 630 mm
Target pests
Rattus norvegicus, Rattus rattus, Mus musculus domesticus
Characteristics
EKOMILLE CO2 is a new system of suppression that is more efficient, able to respect to the most strict regulation, in order to avoid unnecessary suffering to animals.
CO2 is odorless, colorless, non-flammable, non-explosive and heavier than air.
When used in Ekomille, CO2 diffuses at the top of the bucket, in direct contact with the captured rodent; he falls asleep, he faints and immediately, completely unconscious, he is painlessly suppressed.
Death occurs by hypoxia, within a very short time (<60 seconds), through depression of the central nervous system.
The concentration of CO2 inside the lower section of Ekomille is ensured greater than 60%. Ekomille CO2 has same function of Ekomille with different suppression system.
Able to be used in all different sites: Indoors or outdoors, sensitive areas, and also risk of explosion areas.
Each bottle of CO2 is able to make about 10 captures continuously. Easy to replace, thanks to the erogation system plug and play.
Included
EKOFOOD 100 (cod. APGR03)
Small shovel (cod. APG023)
Pair of gloves and plastic bag
Package
1 pc
The CO2 cans contains carbon dioxide for food use. The amount of CO2 allows up to a maximum of 10 captures.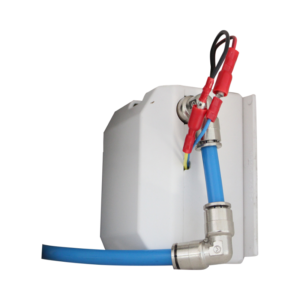 The erogation mechanism allows a calibrated release of carbon dioxide (CO2 ) in the lower section of the Ekomille.
VIsita il sito dedicato www.ekomille.it