Ekoxy3 is the range of ozone generators for ecological disinfection. Thanks to the patented filter system that purifies the intake air, ozone emission is optimized and no other potentially dangerous elements are generated.
Ekoxy3 is indicated for the treatment of air and surfaces for the elimination of viruses and bacteria in any type of environment (civil, industrial, food, public, health).
Can be used for: air disinfection; disinfection of surfaces intended for contact with food; water disinfection of aqueducts, swimming pools and for bottling; disinfection of fruit and vegetables from mold and yeast spores; deodorizing of environments.
Ekoxy3 sucks in air, purifies it through the special patented filter, then generates ozone and injects it into the environment. Ozone, thanks to its oxidizing capacity, disinfects the environment and, as unstable by nature, spontaneously converts back to oxygen without leaving toxic-harmful residues.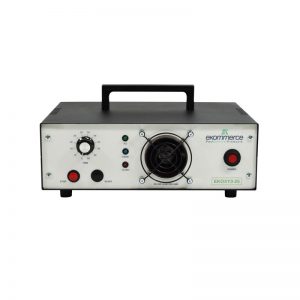 Ekoxy3-25
SKU
8553
Dimensions
w 32 x d 33 x h 12 cm
Weight
4,8 kg
Technical data
Ozone production 1 g/h ambient air 20°/50% Rh
Air/ozone flow 36 m³/h
Ozone concentration 25 PPM
quantity of recharge filter 410 g.
Packaging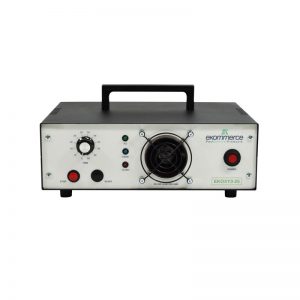 Ekoxy3-50
SKU
8554
Dimensions
w 40 x d 38 x h 18 cm
Weight
6,8 kg
Technical data
Ozone production 3,2 g/h ambient air 20°/50% Rh
Air/ozone flow 90 m³/h
Ozone concentration 50 PPM
quantity of recharge filter 800 g
water ozonation kit supplied
Packaging